RBG Full Store
Terms: 5 years (renewable)
3% Management Fee (starts on 7th month)
2% Marketing Fee (starting after a month from opening day)
Use tradename, trademark, wordmark, operational system, and logo
Opening support, training, logistical support and site assessment
Full Menu
With DINE-IN/ at least 100 sqm
High foot traffic area, parking with visible frontage
Total Capital: 3.5 million and up
RBG Junior
Terms: 3 years (renewable)
3% Management Fee (starts on 7th month)
2% Marketing Fee (starting after a month from opening day)
Use tradename, trademark, wordmark, operational system, and logo
Opening support, training, logistical support and site assessment
RBG All Time Best Sellers, BBM Series, Bilao Series and Pinoy Meals (with additional franchise package)
With DINE-IN/ at least 60 sqm
High foot traffic area, parking with visible frontage
Total Capital: 1.5 million and up
RBG Express Plus+
Ready to OPEN Nationwide
ALL EQUIPMENT
(stainless, ice shaver, lpg gas line, waterline, electrical, lights & fixtures exhaust etc)
ALL MARKETING Collaterals
(Signage, posters, menu, acrylic signage, directional signs)
Lease/Rental spaces are not included
ALL SMALLWARES
Training & Uniforms
Initial Inventory worth P75,000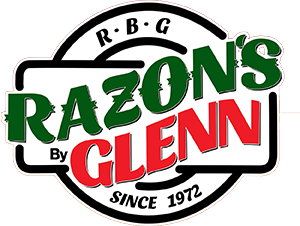 WHY YOU SHOULD FRANCHISE RAZON'S BY GLENN?
Razon's specialty menu has been hailed as one of the BEST in the country.

Brand Recall and Brand Loyalty is unparalleled all over the Philippines.

Tried and tested business model of Razon's that spans for almost 50 years and RBG for 17 years.

Continuous development and improvement of standards of to ensure quality longevity of business.